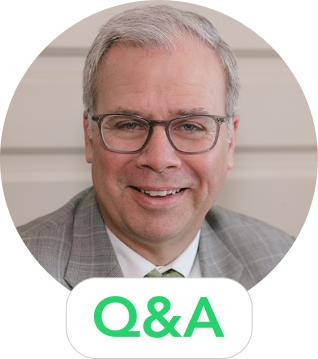 CoSN CEO Keith Krueger has been advocating for technology in the classroom for three decades — and watched a revolution happen overnight. He discussed the greatest opportunities he sees in this time of crisis, the problems that COVID-19 has uncovered, and forecast what we might see in the year to come.
He also shared advice for tech leadership and unpacked the shifting public perceptions not only around EdTech but of education itself.
OETC: With school closures, we all experienced a giant leap forward — perhaps even a revolution — in EdTech. Can you talk about the experience of closures, both what you saw in members and schools, and what it was like to see so much done so fast?
Keith Krueger: It's been an amazing moment to live through, especially given the three decades I've been advocating for the use of technology in education. Overnight, with a snap of the fingers, we weren't just moving toward tech in education — it was going to be the only way that education was happening.
As a professional organization, we were literally five days away from our annual conference, which was going to involve 1,000 people face-to-face at the Washington D.C. Hilton. So we weren't only talking about what our members were doing, we were talking about what we should be doing. We had a one day notice before we closed our office.
We started what we called 'Bring Your Own Inspiration' chats on Thursday nights at 7 p.m. EST, and people really appreciated that community building — sharing the trauma of all the change that was happening, and sharing the tips and advice of what could be done.
OETC: Have you seen changes in the way people view educational technology?
KK: Parents and the public have now seen how hard it is to be a teacher, they've seen how learning was happening or not in an emergency situation, and I think they have an appreciation for how difficult it is to make that work really well.
Over the last 20 or 30 years, there was a thought that in order to prepare students for the future, they needed to learn and have access to technology, but it was always more supplemental than central and essential.
Without remote learning, we couldn't have done learning this past spring. It was a choice between no education and some education.
There are lots of good reasons for students and teachers to come together at a school, but there are also things that we've seen can be done better or improved. We can use technology to recapture time, to find ways for students to dive deeper and do more learning.
It also allows for more parent connection. A colleague told me that while they used to get maybe 15 participants at parent's night, when they did a Virtual Parents Night, they had 200. Very few parents will go to a school board meeting, and yet if it's all digital, we can all participate.
We don't just want to go back to the education system we had — there are lots of ways we can improve it.
---
"When we looked by income and race to see which students didn't have access to broadband at home, or didn't have devices, we realized it wasn't just a digital divide. It was a digital chasm."
OETC: What was something you didn't expect?
KK: I think I would not have predicted the politicization of education being virtual, or really of the whole moment. Everything from wearing masks to coming back to school or being virtual suddenly was defined by some of our leaders in very political terms. I hope we can step back from that and look more to what the science tells us around safety, and be driven by great pedagogy.
The reality is that most parents, most students and most teachers want to go back and have face-to-face experiences when it's safe, but we don't want to do it until it is.
At least for this foreseeable future, we need to prepare for distance learning and we need to make sure it's done in an equitable way. Equity, we found, is so lacking. When we looked by income and race to see which students didn't have access to broadband at home, or didn't have devices, we realized it wasn't just a digital divide. It was a digital chasm.
OETC: Did we see mainly an acceleration of existing trends, or some that were completely new? Was anything particularly surprising or novel to you?
KK: We do the Driving K12 Innovation Report, and most of the work was done pre-pandemic. However, when you look at what the trends are through the lens of COVID-19, we were pleasantly surprised at how relevant it was.
Is this a moment for innovation? Some will say, "We're too busy to do anything new," and I think that's a reasonable reaction, but I would make the countervailing argument — that it is in times of crisis when you most need innovation.
Schools are facing big budget cuts and they're facing a new set of needs. Trying to go digital at scale in an equitable way is a completely different lens to look at education. There are challenges, but also there are new tools and opportunities.
We highlighted two technologies. One was digital collaboration platforms, and what we're finding is those districts that were really ready for remote learning needed a way to manage their content and make it easy for teachers and parents and students to use the technology. That trend was only accelerated during COVID.
The same is true of the other theme of the report, tools for privacy and safety. As we go more and more digital in this COVID moment, we have to make sure that student data is kept private.
OETC: What do you see as the biggest challenges of the 2020-2021 school year?
KK: At least for the school year, coming back, I think there's been this enormous uncertainty. If you asked our members three weeks ago what they were going to do, most said it was going to be a blended experience, with some saying fully face-to-face. If you ask them today, many are saying it's going to be all virtual. And once again, that has meant an enormous pivot and uncertainty.
There are still a lot of governors and policy makers who are seeing this as only a problem in the fall, or for a few weeks. They'll make a decision for four weeks, and then they'll reevaluate. That's a big challenge (for educators) to pull off.
I think once again, teachers and administrators are going to have very little time to be ready for back to school and it raises all the same issues around equity.
Meanwhile, we're still waiting for dedicated, focused federal funding to address educational equity. Maybe it'll happen in the next few days or maybe they'll kick the can down the road.
It isn't a surprise that schools open in the fall. And yet here we are, it's August 6 and Congress hasn't yet come to agreement with the president that we need dedicated money to bring back schools, and particularly dedicated to making sure students at home have access.
---
"It isn't a surprise that schools open in the fall. And yet here we are, it's August 6 and Congress hasn't yet come to agreement."
OETC: As we shift into a potentially protracted online learning environment, what advice do you have for those in leadership?
KK: First of all, take care of yourself and take care of your team. Use this opportunity to lean in that your job isn't to promote technology, it's to be the leader on innovation.
You are going to get sucked into the swirl of the logistics of making technology happen, but if you want to really provide value and position yourself at a cabinet level, you need to do more than that, which is to help your superintendent, school board and cabinet see what's possible around learning.
I think the means to do that is technology, but if you're just thinking about the logistics rather than the why, you won't be as valuable.
— Kelly Williams Brown
---
---
Past Spotlight Posts
The Triumphs of 2020: CIOs reflect back on their proudest accomplishments and moments from a spring that no one saw coming
Six things they wish they'd known: Veteran CIOs talk about how to survive a budget cut, strategic communication and the advice they would give to their past selves
A New World of Student Privacy: With closures come countless questions on student privacy and compliance— but few answers
Remote Zoom panel: How school districts are adjusting to security and support needs during school closures.
"It's never going to be the same": Hardship, frustration, and the surprising opportunities found in K-12's response to the ongoing COVID-19 pandemic.
Dark web search engines, "zero-trust" models and your weakest link – Eight actionable cybersecurity practices your institution should follow according to Jack Maynard
Six employee communication tips from Know Your Team's Claire Lew
Q&A: Tricia George on being named a Top 10 Innovative technology director
PSU CIO Kirk Kelly on how a department-wide overhaul landed them in the top 100 IT workplaces
Q&A: John Peplinski of Beaverton School District
Silverton kids get hands-on — and paid — with IT
How Salem-Keizer's Bob Silva thwarted a $1.5-million phishing scam
Q&A: University of Oregon CISO Leo Howell
Newberg Superintendent Joe Morelock uses data to find invisible problems — and surprising solutions