On a recent Tuesday afternoon, Silverton High School sophomores Kate Schemmel and Ash Ayers were almost ready to fix the Chromebook cart that was acting up at Silverton Middle School.
"There's a Chrome cart that's really loud, so it probably needs a new fan," said Ash, as she rummaged around in a sack for the necessary parts, eventually pulling out a fan. She noted it wasn't the only IT help ticket she planned to tackle that afternoon. There was the social studies teacher who needed a new monitor, plus a teacher at the middle school with an un-chargeable laptop, which she speculated is probably a problem with the docking station.
Kate was across the room, rummaging through cords stored on a high shelf.
"Can you bring a VGA cable, too?" Ash shouted to Kate.
Kate paused. "Should it be that or HDMI?"
"Bring both," Ash concluded.
Kate finally found the cables; they too went in the bag.
Kate and Ash were standing in the middle of Silver Falls School District's IT department. The small maze of rooms is located right next to the Counseling Department at Silverton High School. It contains a big open area that doubles as one of the school's computer science classrooms complete with disassembled computers and devices. Off to the left are the headquarters of SCAN-TV, Silverton's 24-hour public access channel. You'll find posters with titles like "Programming Languages" or "Hardware: Peripherals." Finally, there are the students who help run IT for the entire district hanging around all hours of the (school) day.
This all happens under the watchful eye of Drew Hinds, the technology director of the district.
Drew is singularly and intensely dedicated to educating SHS students in technology. He thinks (and talks) about this constantly. How do we get more kids in these classes? How do we get the kids who are in the classes to take other ones? How are the current students doing, and do they know how to translate this into a career? What could the school do to attract more girls and people of color into the mix?
In addition to overseeing IT for the district, Drew teachers computer science classes and heads one of SHS's many CTE (Career and Technical Education) tracks.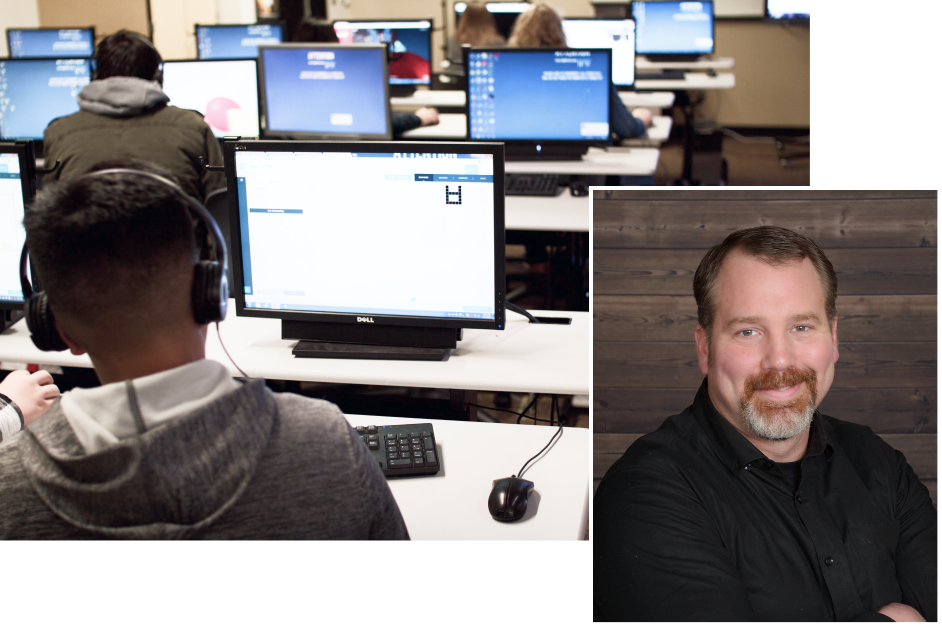 These programs, run in coordination with community colleges and local businesses, aims to turn students into Career Pathway Completers. A Completer is a student who takes at least three years of classes in their focus and is armed with the soft skills — adaptability, collaboration, communication and more — that make them immediately employable upon graduation. They will almost certainly graduate; 97 percent of students who have taken at least two classes in their area of specialty do.
Adolescents, Drew said, "thrive on authentic self-direction and trust. Secondary students who feel respected with even a hint of independence thrive when they are given real responsibility."
When Drew walks through the high school halls, he stops and talks with the students who are paid to maintain and troubleshoot the district's 5,000 devices. When he's not chatting, he strategizes, aloud, about which class one of his students really should be taking, then will rapidly switch topics to, say, the importance of connecting student programming with local businesses. He'll pause, then start discussing how in the years to come he wants to make all of it — the programming track, the engineering track and the information and communication technology track — one integrated whole.
We stop at the auditorium. On this particular day, all the CTE students are attending a session on soft-skills put on by Kirsten Barnes, who oversees the CTEs.
Up on stage, Kirsten is talking about the importance of being a reliable human being, a quality that adolescents are not necessarily famed for.
"Are you an on-time type of person? Do you meet deadlines? Are you turning in your work on time?" she asks the students.
The questions aren't rhetorical. Part of completing a CTE path is extensive training in soft skills, and right now the students have been asked to assess theirs. As the students ponder exactly how resilient, self-aware, empathetic and entrepreneurial they are, Multimedia Assistant Maddy Traver sits in the control booth.
It's a familiar room for her. Maddy graduated SHS in 2018, and spent countless hours as a student in this same place, running sound, lights and more for anything that might be up on that stage.
Now, she works in the tech department and mentors the CTE students who run SCAN-TV. The 24-hour television station broadcasts sports, city council meetings and community events, among other things.
Mentoring, she said, "is one of the best ways I can think of to give back to a program that gave me so much. It taught me professionalism, business skills — because of that program, I was able to launch my own photography and graphic design business."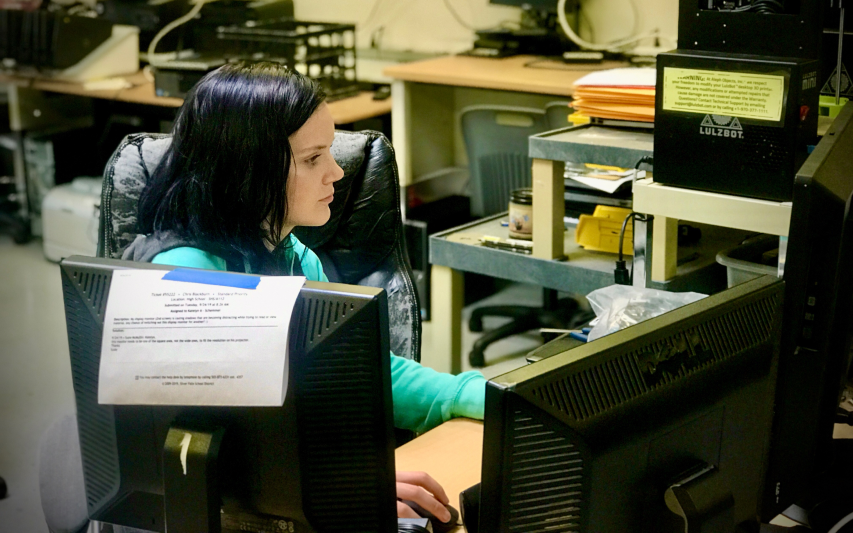 Much of Maddy's time is spent in the SCAN-TV (Silverton Community Access Network) headquarters. Inside a long, narrow, very warm room, four students edit videos, while another one sorts an enormous bookshelf full of equipment that takes up nearly the entire wall. A greenscreen studio, complete with full lighting, is just beyond the bookshelf.
The station runs 24 hours a day, Maddy said, and students are responsible for nearly all aspects of it — though she is the only one with total access to its workings.
"So I'm on call 24/7," she said.
The students are using Premiere, Adobe's media encoder, to edit and render everything, Aftereffects to create graphics, Photoshop for menus, Encore for DVDs and "we occasionally use Illustrator for some things, but I'm pushing for the use of InDesign," Maddy said.
Senior Caleb Roeder is the program manager of the station. He oversees the 14 students who run the station, making sure that there's adequate, planned programming around the clock.
"You have to be really, really good at picking things up quickly, because whenever you're assigned something … you have to get on it ASAP," he said.
Caleb is one of the strongest students in the CTE track, and is also taking advanced programming classes.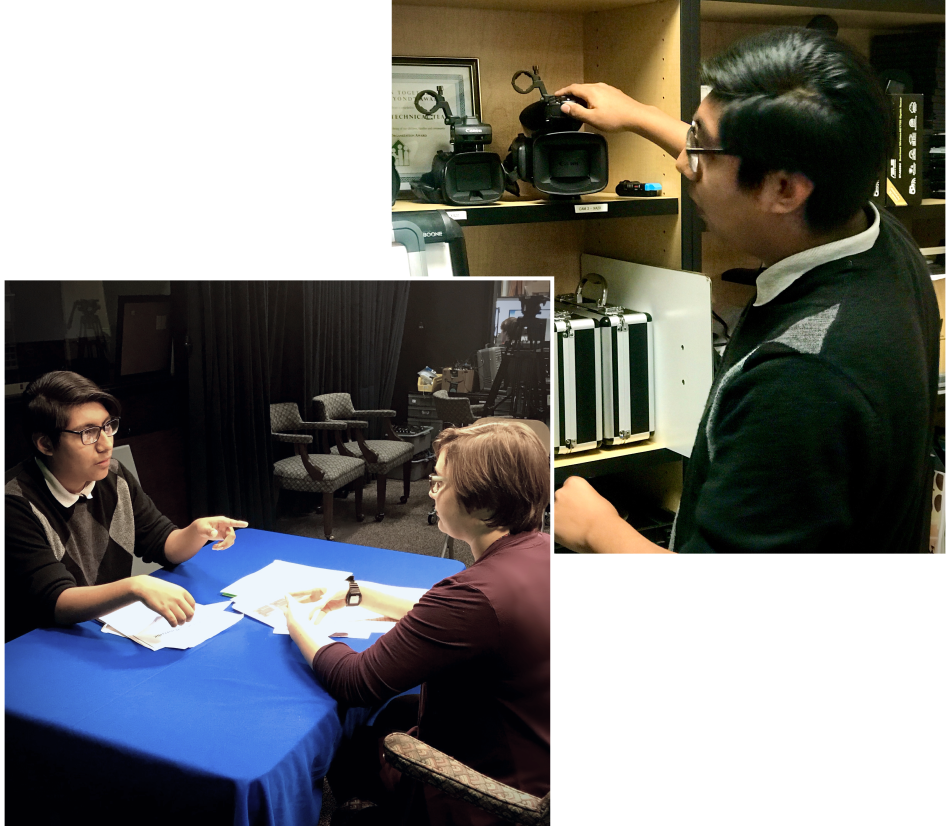 "It's definitely given me more career opportunities," he said. "I can say, 'Hey, I have Completer status in both programming and digital media,' and that gives me more options to explore when I'm looking for jobs."
So what is he doing after graduation?
He laughs. "This is a weird change of pace, but I plan on hopefully going to Michigan to become a luthier, building guitars."
This surprises and delights Drew, who says that everyone in Silverton seems to have a surprising side gig or past life. You'll know someone for years, he says, before you find out that they used to be, say, a professional football player or full-time pianist. Perhaps this town tendency helps explain why experiential learning is key to SHS's educational philosophy.
When there's a need on campus, Drew said, it's also an opportunity for the students.
"They run the Fox Shop, they run the coffee shop, they make trailers, they grow the flowers in the greenhouse, and they fix and run the computers in the district," he said.
"You have to have patience," Drew said. "Sometimes, you throw them in and they swim and rise to the challenge, and some of the time you throw them in and they don't swim, and you have to go rescue them."
"Hopefully before they crash the network," Maddy said.
I asked how teachers and staff felt about students handling IT. Were they concerned that the students weren't experienced enough?
"Jameson —" Drew says, and a head pops up across the room. "When you go to classrooms, do you think teachers are grateful that you're helping?"
"They're probably impressed," comes the reply.
The really challenging jobs, Drew said, will normally go to one of the adults. But far from being frustrated, teachers were excited to see students working.
Junior Austin Hudson recounts a recent triumph — setting up a teacher so that her monitor was the main display, her laptop the secondary display and the projector the third.
"So all she had to do to get something up on the projector was drag it over from her display," he says, pantomining dragging a window to the right.
Including Drew, there are seven people in the Silver Falls School District Tech Department. Counting the students, there are up to 27 people taking tickets, which means help gets there much faster. They service around 5,000 devices across three OS — there are 2,500 Dell and CTL Chromebooks. There's 1500 iPad 2s and above that they manage by Jamf. Finally, 1,000 teacher desktops and laptops run Windows 10.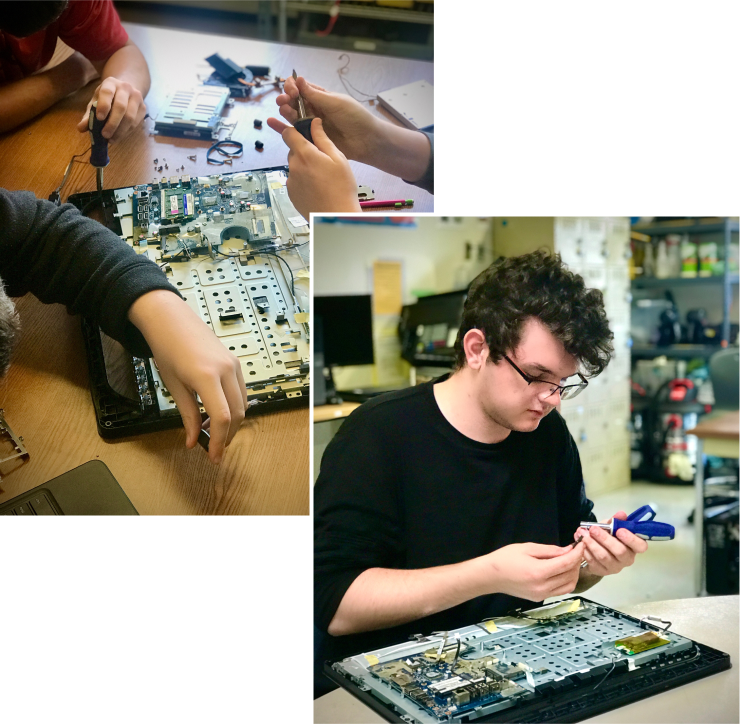 Working on three platforms, Drew said, makes them well-rounded. They leave with the ability to work with Windows, Mac OS, Google and, via the iPads, with mobile devices.
Long term, Drew says, he wants to see the technology CTE tracks become a cohesive whole. He wants a program that produces students who can move smoothly through diverse disciplines, who feel at home across a variety of technological landscapes.
First, he said, there's the job opportunities. He's seen graduates find jobs that pay $40,000 — even $60,000 — right out of high school. Plus, he says, interdisciplinary students are the ones who are going to get the highest-paying, most-difficult-to-outsource jobs.
Think, he said, of "an electrical engineer with a computer programming background — that's the job that's going to make $80,000 a year, the guys who's programming stoplights."
He wants to introduce kids to subjects they may never have considered
"If a kid will take an art class, why wouldn't they take digital media?" Drew asked. "They should learn Photoshop, they should learn Illustrator, After Effects — let's see if we can go get them."
"As we've grown our computer science and programming, we're able to say 'Hey Craig — Caleb needs a programming class; I think he could go three or four deep in yours.'"
Drew pauses for a moment.
"Actually, now that I think about it, he needs to be taking a CAD class if he's going to be making guitars."
---
---
Past Spotlight Posts
Spotlight Q&A: John Peplinski of Beaverton School District
OETC Spotlight: Cybersecurity Q&A