Microsoft 365 Education Suites on the OETC Contract
Learn more about Microsoft 365 licensing for education offer through OETC.
Get a Quote
View Slide Deck
Microsoft 365 Education Suites
What is EQU?
Formerly known as Full-Time Equivalent (FTE)
Add security to Microsoft 365 A3
Special Use Rights
Student Use Benefits
Why buy through OETC?
OETC's Competitively-Bid Microsoft EES Contract
Microsoft licensing through OETC offers members significant savings and several unique incentives:
One of the lowest EQU minimums in the country
When you purchase through the OETC contract, you are not obligated to get Microsoft's minimum of 1,000 EQU; you can license as few as 20 EQU.
Leverage consortium pricing
OETC members automatically start at Level B pricing, normally reserved for institutions between 3,000 and 10,000 EQU.
Multi-State RFP-Backed Contract
OETC contracts are backed by a cooperative RFP, advertised in all member states and conforming to state and local law. Skip the difficulty and expense of putting your Microsoft licensing out to bid.
Licensing support and simple renewals
OETC is your partner in Microsoft licensing. We're here to provide support, advocate on your behalf and make renewals simple, straightforward and fast.
Watch the OETC Microsoft EES Licensing Webinar
Watch our webinar to learn more about the Microsoft 365 licensing changes.
The webinar consisted of a 15 minute presentation by Executive Director Thomas Richards
Watch the Webinar
View Slide Deck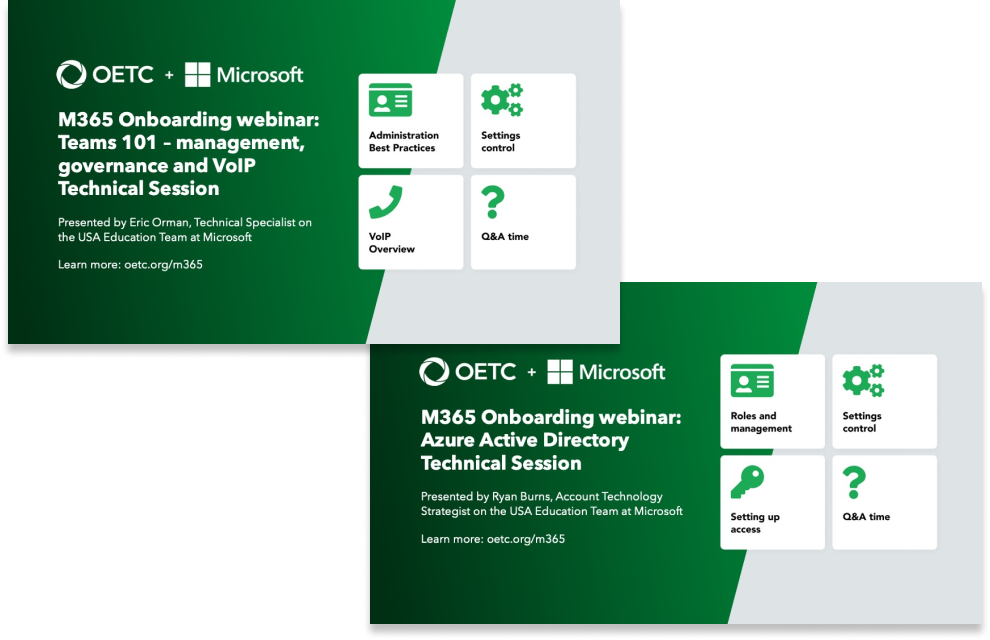 Get help with M365 using OETC's support options
Sign up for a personalized end-user training, watch a webinar or request a quote to migrate your agreement to OETC today.
Request a training
Learn more