Poly hybrid learning solutions
Poly video, voice and content sharing solutions empower educators to deliver exceptional, high-impact learning experiences.
Request a quote
Watch the webinar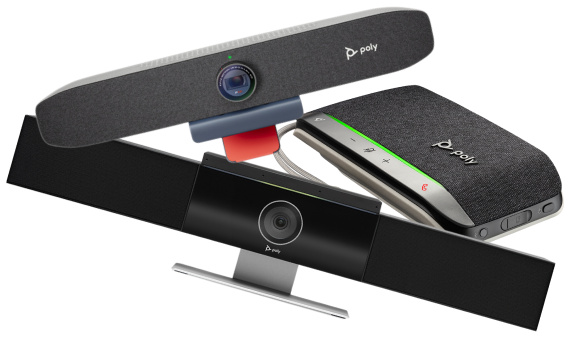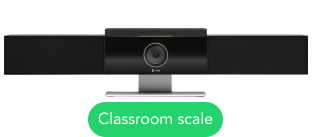 The all-in-one speaker, camera and mic keep the technology in the background and you in the foreground.
120-degree FOV
4k capture resolution
Automatic people framing and speaker tracking
5x zoom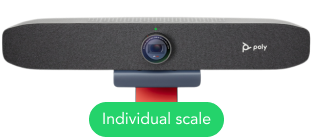 Poly Studio P Series personal video devices enable you to be your best self – confident and clear from the beginning.
90-degree FOV
4k capture resolution
Personal conference view with auto-framing
Manual pan, tilt and zoom control through desktop app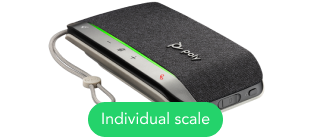 Keep the focus on your voice with multi-microphones that track the talker, not the noise.
Connect via USB-A or USB-C (depending on model) or via Bluetooth
Three microphone steerable array
Ideal for rooms up to 12 ft x 12 ft
Noise and echo reduction
Poly Studio
Meet Poly Studio, the premium USB video bar built for small rooms and big ideas. Delivering the best audio quality in its class, it blocks distracting sounds that can interrupt teaching. Students on both ends of the call catch every word.
NoiseBlock technology eliminates distracting sounds
6-element beamforming microphone array enables high-grade noise cancellation and Poly Acoustic Fence technology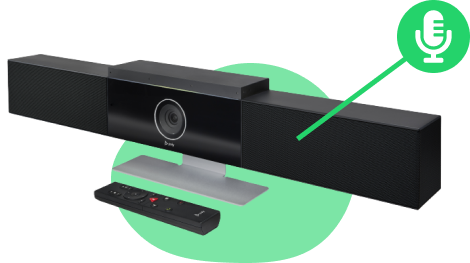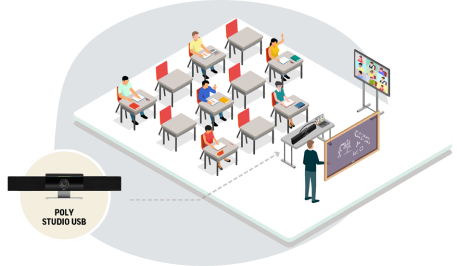 Best audio quality and voice clarity in its class
120-degree FOV with UHD 4K capture and automatic people framing & speaker tracking
Works with nearly any video platform
Easy setup and deployment with the USB interface. Manage updates and settings through the cloud-based resource manager.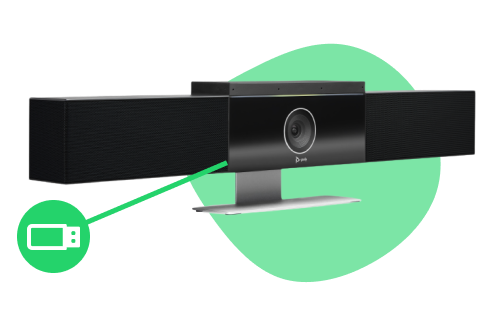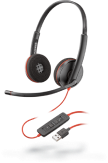 Enjoy a truly outstanding sound experience—ideal for voice, music and multimedia at an affordable price.
Noice-canceling microphones for high-quality sound
Intuitive inline controls
Connects via USB/USB-C as well as 3.5mm for mobile devices and tablets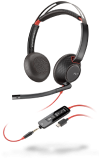 Soft, conforming ear cushions provide noise canceling while a precisely tuned microphone masks nearby conversations.
Ideal for all-day use
Noice canceling microphone masks nearby noise for maxium call privacy
Connects via USB/USB-C as well as 3.5mm for mobile devices and tablets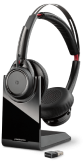 The right level of active noise canceling, designed for distraction-free calls without excessive noise blocking.
On-demand active noise cancellation
Leatherette ear cushions wrapped around pillow-soft memory foam
Works seamlessly across any Bluetooth-enabled device
Watch the Poly webinar about helping keep students engaged with Poly and leverage COVID relief funding
Watch the Poly webinar about helping keep students engaged with Poly and leverage COVID relief funding
Topics covered
Using Poly technology to facilitate learning in and out of the classroom
Live product demos for the Poly Studio, P Series, the Sync 20 speakerphone and Blackwire headsets
Accessing available stimulus and grand funding, including ESSER, HEER, GEER and RUS DLT
Watch the webinar
Poly Grant Assistance Program (PGAP)
Poly is pleased to offer a wide array of free grant services. Our network of experts are here to help you through the grant process—from grant identification and application to post-award administrative support.
The PGAP team provides grant summaries, eliminating your need to wade through hundreds of pages of grant guidelines. We regularly host webinars and provide other informational opportunities to educate you about grants as they are released.
Learn more about PGAP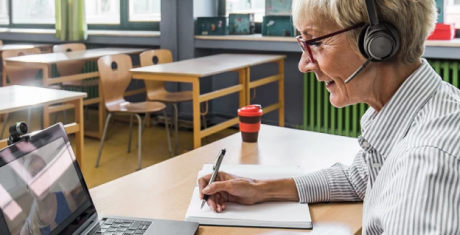 Hybrid learning expertise
OETC can help find the best option for your school, college or institution. Contact us and we'll assist you in selecting the Poly products that meets your needs.
Discount pricing for education
Aggressive negotiation on behalf of our consortium gets us special pricing, discounts and incentives available only to members.
Dedicated support and assistance
Our dedicated support team is always just a call away. Get your technology problems attended to by real people in just minutes.
Nonprofit values and community
As a nonprofit, OETC is dedicated to serving all schools and colleges. By purchasing through us, you help make educational technology affordable and accessible to all.
Learn more about Poly's hybrid learning solutions
Let us know if you're interested in learning more and we'll reach out to you shortly.