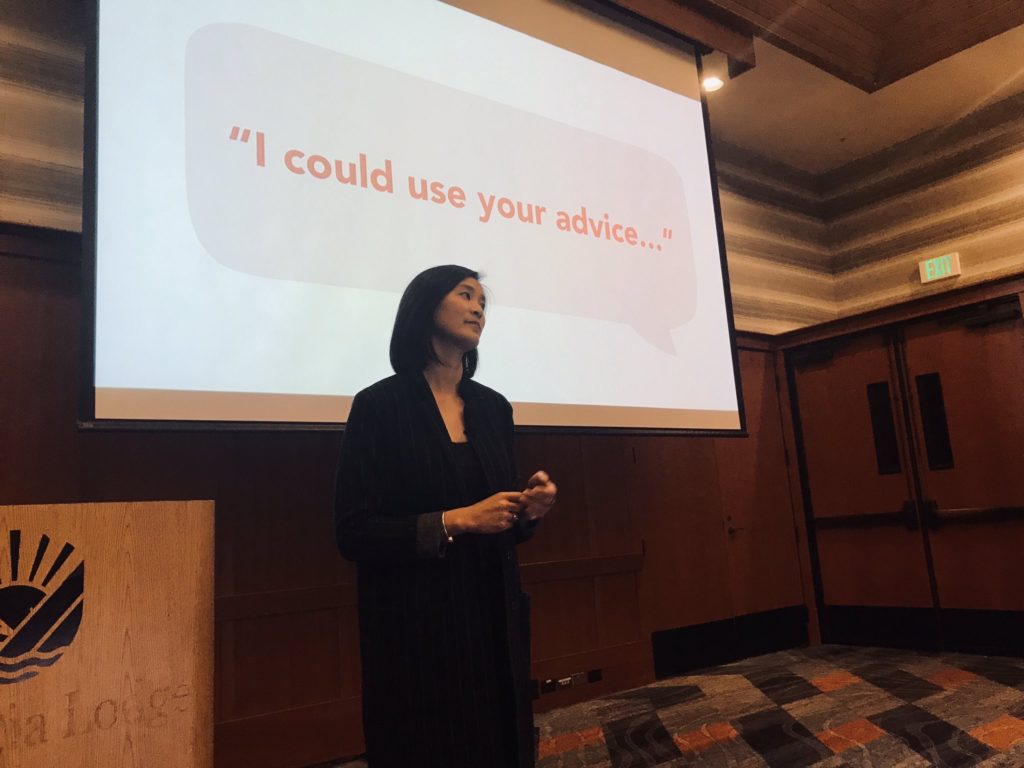 OETC's third-annual CIO Summit ran Oct. 10-12 at Skamania Lodge in Stevenson, Wash.
Download the speakers' presentations here.
Claire Lew was ready to share the five magic words bosses can use to get good, actionable info from their employees.
The CEO of Know Your Team looked out over the crowd of 70 leaders gathered in a lodge overlooking the Columbia River, and smiled.
"People feel stressed when you ask them for feedback," she said. "But you know what everyone loves to give?"
She pressed a button and the screen lit up with a simple phrase — "I could use your advice."
The CIOs laughed; from the back of the room, the applause started.
Claire's talk was one centerpiece of OETC's 2019 CIO Summit, which ran Oct. 10-12. Taking place over a packed 36 hours, Summit 2019 drew dozens of CIOs and IT Directors. The group talked leadership, checked out new technology, fostered connection and exchanged ideas.
Held at Skamania Lodge, this year's event was the largest and most involved yet.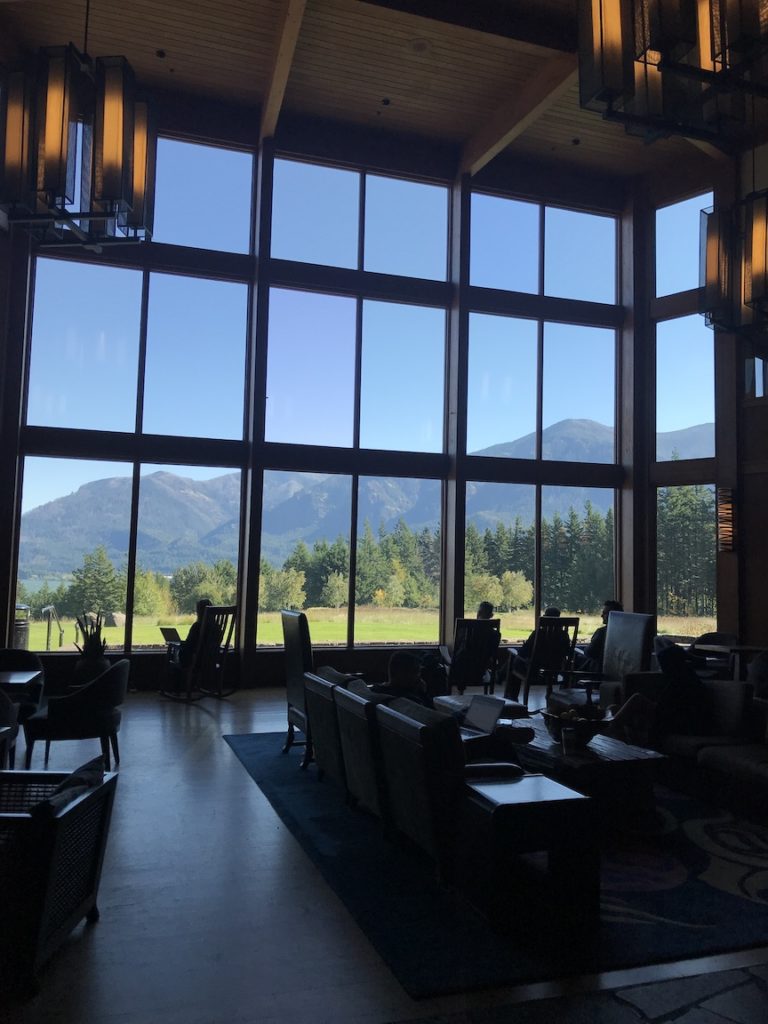 It kicked off on Thursday night when Megan Bigelow, CEO of Portland Women in Tech (PDXWIT) shared the results of State of the Community 2019. This annual qualitative survey for the first time was national in scope, exploring the challenges facing women, POC, trans folks and other underrepresented groups working in tech.
The next morning, keynote speaker Michael C. Bush continued the theme with a talk on how to create an environment where every employee — regardless of background, demographics or rank — can truly feel integrated and thrive.
Michael is the CEO of Great Place to Work, an organization that provides analytics to 10,000 organizations in over 57 countries. He focused on raw data to prove that it is human connection that truly binds people together in a common cause.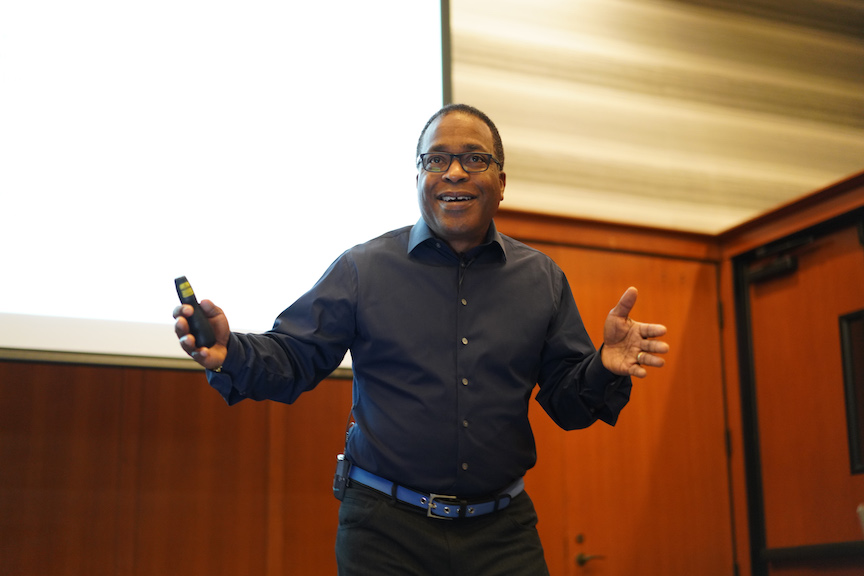 To be a great place to work for all, he said, is to feel that "you can be yourself — your entire self — and you don't have to hide anything. Only when you're feeling safe can you bring all of yourself to work."
Afterward, OETC board member Ellen Dorr said she was struck by the degree to which bosses and coworkers factor into job satisfaction.
"One of the things that really stood out to me was the idea that you maximize your potential when you really care about who you are working with," she said. "He mentioned that accountability and compensation don't do that — it's that feeling of care and camaraderie."
During the morning and afternoon one-on-ones, CIOs got focused, in-depth meetings with various partners who offered everything from Chromebooks to comprehensive security plans.

The CIOs then embarked on a workshop put on by Portland State CIO — and OETC board member — Kirk Kelly.
Titled "Employee Engagement — The Secret Sauce," Kirk discussed how to help employees lean into their autonomy, develop their mastery and find their purpose.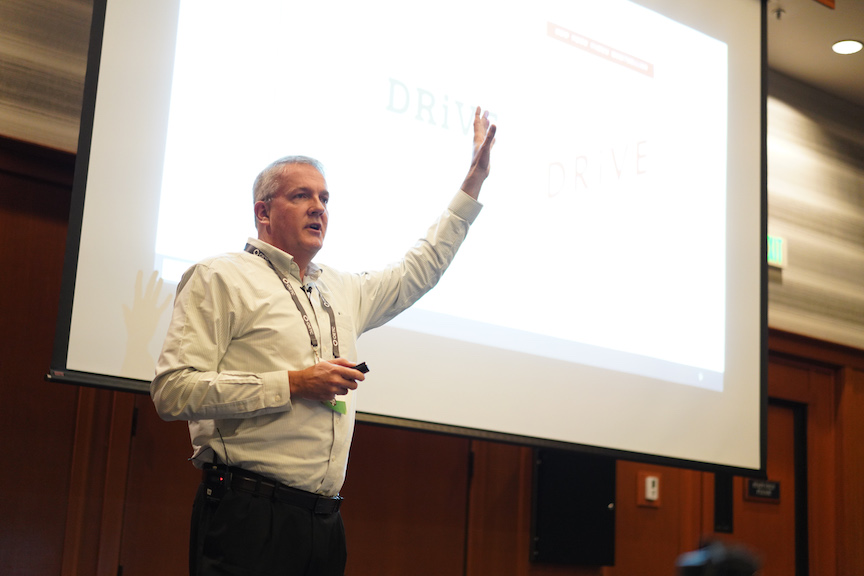 Even though he noted that sticks and carrots don't work, he started out with a stick of his own.
"We are the problem," he said. Behind him, a slide noted that 65 percent of employees said getting rid of their boss would make them happier than a salary increase.
Kirk would introduce a concept — say, flow, that feeling of being fully immersed in one's work to the point where time passes quickly and you're entirely engaged — and then CIOs circled up for discussion and feedback.
At one table, Steve Menachemson, director of technology for Eugene School District 4J, was discussing how to give his employees the chance to truly get into their flow. Around the table, people recalled their own such moments and the circumstances that fostered it. How could they provide that same urgency, immediacy and focus? Was the answer to give employees quiet, distraction-free blocks of time? Allow them to pursue their own projects one day a week? All the above?
Those conversations flowed into lunch, and then Claire Lew closed out the Summit.
For her talk, Claire outlined concrete ways to give and solicit meaning feedback from employees.
Instead of asking general questions, she said, make it specific: Can you think of a time in the past month when you felt frustration? When was a time you felt truly energized and engaged? When have you felt most proud to be part of the organization?
And as uncomfortable as they might feel giving negative feedback, she said, their employees truly want it. In fact, though supervisors rated giving negative feedback as -2.3 on a preference scale, employees ranked receiving negative feedback as +4.7.
The CIOs got hands-on with exercises designed to help them get familiar with these techniques. They examined what keeps them from giving useful feedback, and discussed how they can demonstrate her key values of care, fallibility, observation and curiosity.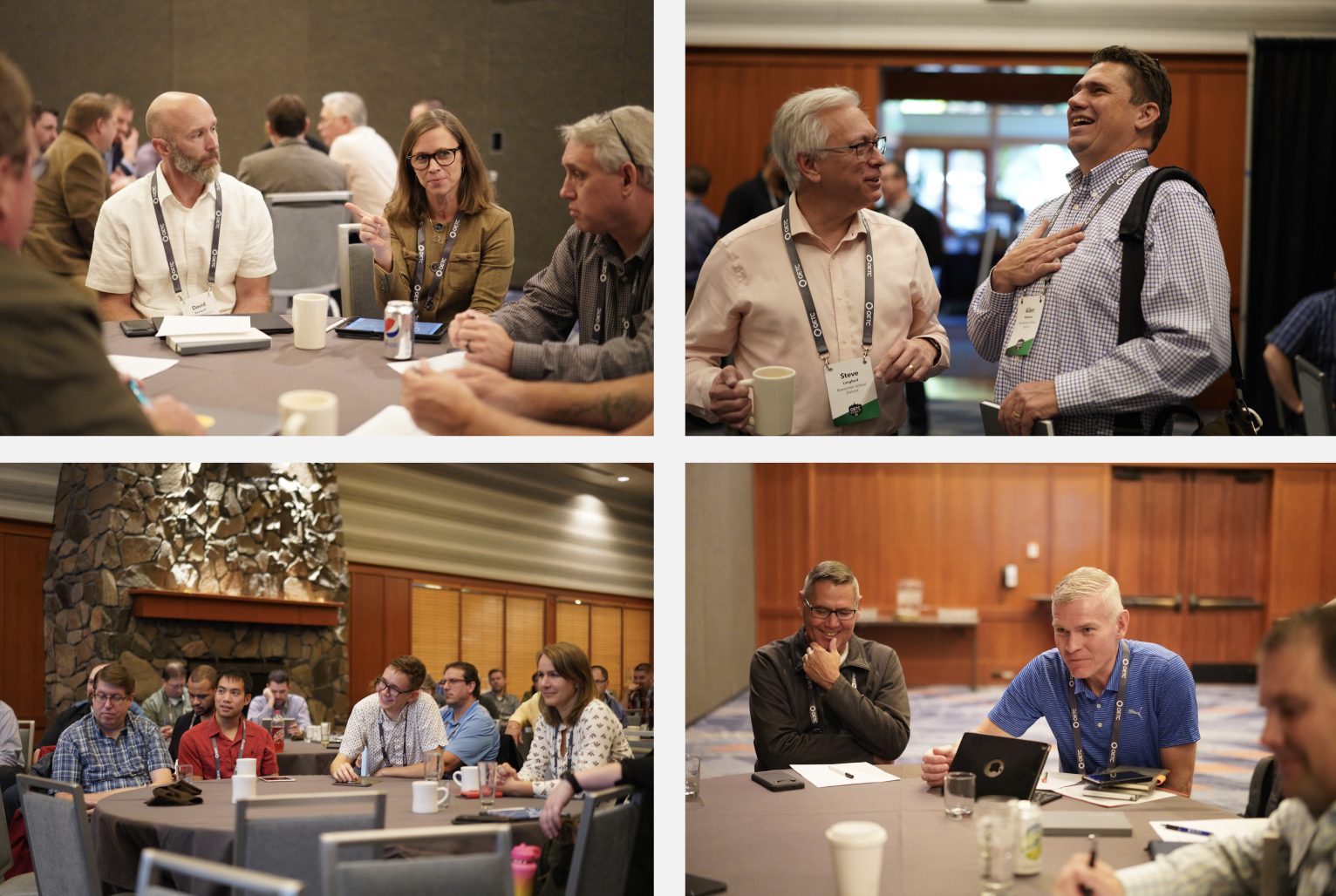 A cocktail hour continued into a barbecue dinner, with s'mores for dessert. CIOs circled up with each other, staying up late as they swapped ideas and stories over drinks.
Newberg School District Superintendent Joe Morelock, who has attended every Summit, said he comes "to discuss and discover the latest trends and what's just beyond the horizon."
"I was introduced to new thinking around tech management, intrigued to hear speakers talk about maximizing the human potential of those we lead, and learned some surprising truths about what motivates us in the workplace," he said. "It's a great event."