As of July 1, OETC is using a new e-commerce platform. We're excited for lots of great new features, but did want to let you know about two changes:
All users need to set a new password the first time they log onto the new platform.
We anticipate that this will take no more than three minutes, but you must have access to the email you registered with that serves as your username.
Order history prior to July 1 will not migrate over to the new site.
You can still access it by logging onto store.oetc.org, where it will be available through the end of 2019. Please note that on the old store, you will still use your previous account password. In 2020 and beyond, you may request your order history by contacting us.
Please note: Only accounts active within the past year will be migrated to the new platform. If you have an older account that you would like to register, please contact us.
---
New Features:
Our new platform boasts a ton of new capabilities:
You can now create bundles of products you frequently purchase together into a single SKU. For example, OETC can create a bundle with your institution's standard Chromebook, power adapter, and Chrome management console.
Compare products side-by-side, or shop related products
Create multiple billing and shipping addresses
Easily pull purchase reports
View up-to-date stock and availability levels
We're hosting a short webinar at 11 a.m. PDT on Wednesday, July 10 on how to use these features and get the most out of your OETC Store account.
---
Register now for the OETC Store changes webinar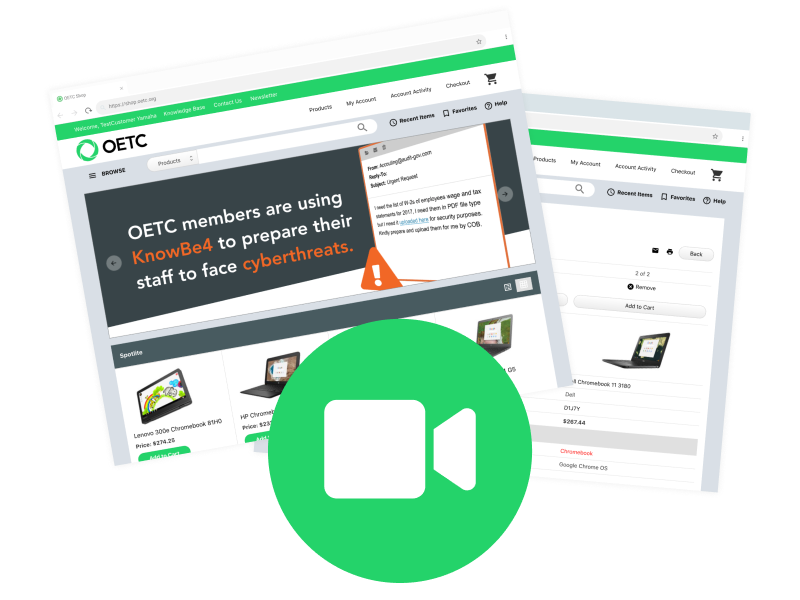 Wednesday, July 10
11 a.m. PDT
Join us for a walkthrough of new features and how to get the most out of your OETC membership. The webinar will be about 15 minutes long, followed by a Q&A.
This webinar has concluded. To view a recording of the webinar, as well as an FAQ generated from the webinar see our webinar follow up page.
---
So why the change?
OETC is much more than just a purchasing consortium. We are here to:
Partner with you in determining the technology that's right for your school or university;
Aggressively negotiate for the best possible price;
Follow all state and local law in our competitively-bid contracts and
Help you implement and make the most of your technology.
In short, we're here to make technology accessible, so your institution can focus on the important stuff — educating the 2.3 million students who are represented by OETC.
Our new store reflects that shift. Of course, we wanted a better user experience and to offer more features. But more than that, we wanted a platform that would help us interact directly with you when you need our help, and make it simple and easy to get your products when you don't.
We encourage you to always reach out to us for a quote on new or larger orders; pricing on our website will always reflect the single-unit, and therefore highest, price. We want to be able to save you as much as possible.
We designed this new platform with you in mind, so if you have an idea for a feature or functionality you'd like to see, drop us a line.