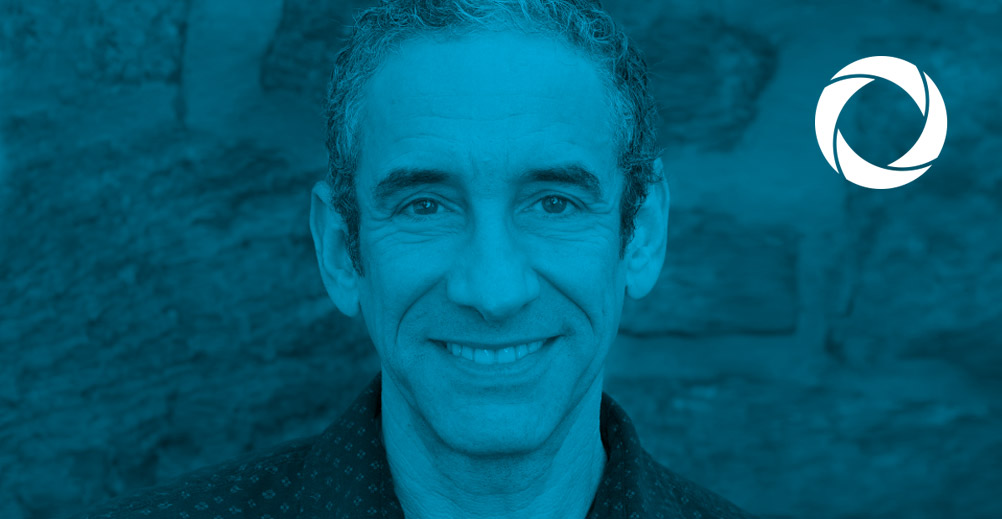 "Fostering humanity means modeling what it means to be human."
Named one of the "world's ten most influential intellectuals" by MIT, Douglas Rushkoff is an author and documentarian who studies human autonomy in a digital age. His twenty books include the upcoming Team Human, based on his podcast, as well as the bestsellers Present Shock, Throwing Rocks at the Google Bus, Program or Be Programmed, Life Inc, and Media Virus. He also made the PBS Frontline documentaries Generation Like, The Persuaders, and Merchants of Cool. His book Coercion won the Marshall McLuhan Award, and the Media Ecology Association honored him with the first Neil Postman Award for Career Achievement in Public Intellectual Activity.
This February, Douglas Rushkoff will present at IntegratED 2019, a hands-on, two-day conference focused on technology integration strategies for educators.
In anticipation of this event, we conducted a brief personal interview with Douglas. Read the full interview below!
Who are you, and what do you do?
I'm Douglas Rushkoff. I try to promote human autonomy in a digital age. I write books, deliver lectures, produce radio shows, and make documentaries that expose the underlying assumptions driving our society – from growth-based capitalism to technosolutionism.
What inspires you?
I am inspired by people who believe they can make substantive changes in the world around them. By people – particularly young people – who see the future as less of a noun than a verb. People who believe we are actively creating the future, in the present – and who treat each and every one of their actions as a potential source of meaning and positive change.
What are your technology "must-haves"—the technology (hardware, software—whatever falls into your definition of the category) that you could not get through the day without?
I appreciate electricity and indoor plumbing. Language. Fire. I am really accustomed to building techniques – meaning, I'm glad to have an "indoors" with heating and a good roof. I love paper and pens. Even typewriters. Printed books.
But the rest – stuff like smart phones and computers? It's not essential to me. I wrote my first book on a typewriter, and could probably go back without too much trouble. It would probably be worth it, all things considered.
Can you share a tip on fostering humanity as it applies to today's educators and their classroom environments?
My main recommendation would be to remember that education is less about the facts or utilitarian value of the subject than to celebrate and model the value of learning, itself. It's too easy to accept responsibility for job training or skills development. That's fine, but it's not human. You could train horses and call it education, too. Fostering humanity means modeling what it means to be human. That's more about modeling the ideal of acquiring knowledge and perspective.
What is your hope for the future of technology in education?
Honestly, I don't have hopes for technology. I mean, I don't despise it or anything, but I don't waste my energy having hopes for it. My hopes are invested in the young people we teach. To the extent that technology can assist me in realizing those hopes, great. But I never start by looking for an application for some particular technology, or for technology as a whole. No technology before need.
The best use of technology in a classroom is to teach about technology.
To hear more of Douglas Rushkoff's thoughts on human autonomy in a digital age, register for IPDX 2019, a hands-on, two-day conference focused on technology integration strategies for educators.