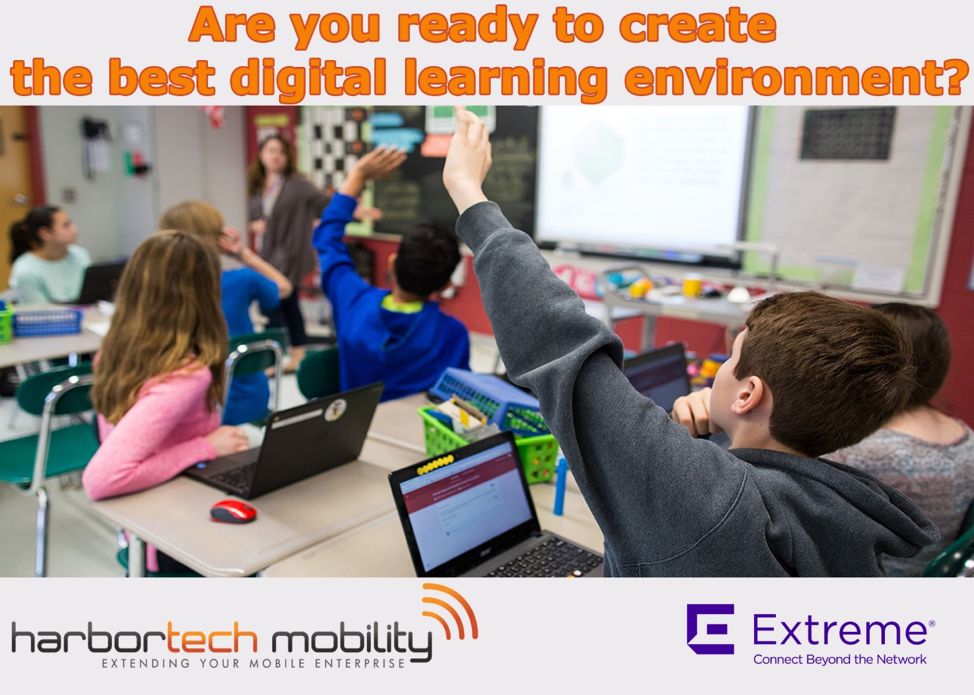 Find Extreme Network Solutions on the OETC Store
We are excited to announce that OETC has partnered with HarborTech Mobility to provide access to Extreme's networking solutions.
Extreme Networks has the most reliable, stable and secure network to support learning applications now and in the future. HarborTech Mobility, Inc. can now help you accomplish your networking needs – switching, routing, wireless, security and identity control, network management and analytics and performance management solutions from Extreme Networks.
Extreme Networks has over 1700 EDU accounts spanning over 20,000 schools and 6 million students nationwide, delivering the best educationally focused networking solutions in the industry.
When you buy Extreme Networks products directly from OETC, you are ensured a competitively-bid contract, RFP-backed pricing, and access to OETC's dedicated service and support team.
About HarborTech Mobility
HarborTech Mobility, Inc. is recognized as a leading provider of secure enterprise wireless networks and mobility solutions. Their focus is enterprise wireless infrastructure solutions; their design, deployment, installation, advanced configuration and on-going support management. Their team is dedicated to improving customers productivity and operational efficiency by building solutions that extend customers mobile enterprise. Their differentiation is the depth and experience of sales and engineering teams which allows them to provide the highest level of support to their customers.
In today's world, schools and colleges rely on their wireless infrastructure and mobility solutions to assist them in the education process. Digital learning boosts student achievement and is vital to the modernization of school curriculums and long-term success of educators. The next -generation wireless classroom lets everyone thrive when they use wi-fi enabled devices and apps that create a more productive learning experience.
HarborTech Mobility understands the importance of digital learning and how critical the wireless network is for that environment. Their engineers look at all the applications and technology requirements of a school and provide a complete end-to-end solution to optimize performance, lower costs and ensure project success.
How do I find out more?
HarborTech Mobility is helping educators to provide digital learning to their students with Wi-Fi and wired network infrastructure. To learn more about HarborTech Mobility's simple, fast and smart solutions visit their website.
Do you want to boost your students' success with a mobile first environment? Reach out to Amber Edlen via email or phone 425-230-7681. You can find HarborTech Mobility contact details on the OETC Store.
You can always chat with OETC's knowledgeable service and support team by contacting OETC or calling (800) 650-8250.