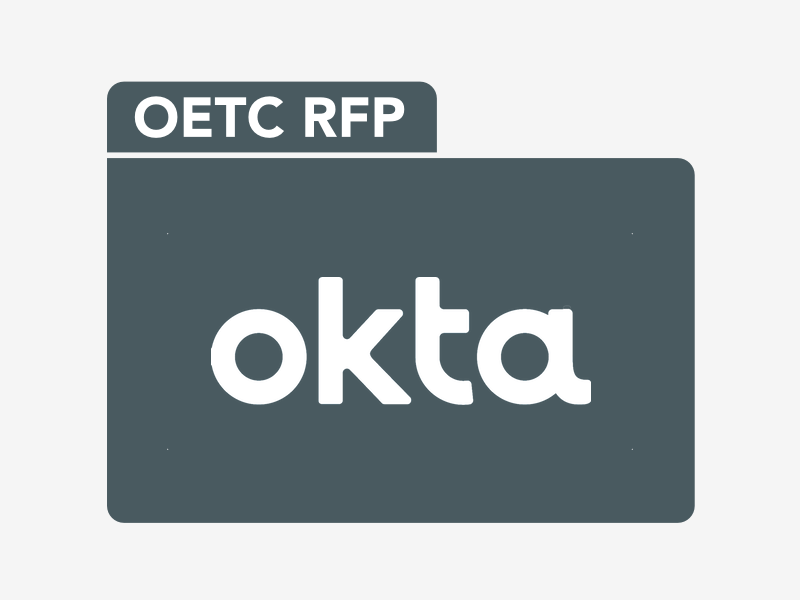 Okta Single Sign-On and Identity Access Management Solutions Now Available
We are excited to announce that OETC has partnered with Okta to provide access to their single sign-on and identity access management products for OETC members.
Okta can help OETC Members address needs and existing gaps in their current application arsenal. Okta provides solutions and offerings that benefit your institution and your users with faster time to value than other providers can offer or achieve.
The Okta service provides directory services, single sign-on, strong adaptive multifactor authentication, provisioning, workflow, and built in reporting. It runs in the cloud on a secure, reliable, extensively audited platform and integrates with both cloud and on premises applications, directories, and identity management systems.
With Okta you can:
Accelerate teaching and learning by securely and simply connecting students to the university and tools they need to be successful whenever and however they want.
Reduce IT friction and password management risk by providing students, faculty, staff and contractors a consumer grade single sing on experience.
Automate process and application provisioning from the moment a student becomes a prospect through their career to alumni status, allowing your IT team to focus on the most important priorities and reducing costs.
Simplify identity access management by providing organizations one place to manage all your users, groups and devices, mastered in Okta or from any number of sources.
When you buy Okta products directly from OETC, you are ensured a competitively-bid contract, RFP-backed pricing, and access to OETC's dedicated service and support team.
About Okta
Founded in 2009, Okta is a modern Cloud Identity and Access Management Service that connects millions of people to their applications via any device. Thousands of customers worldwide, including financial, hospitality, federal and state governments, and educational organizations of all sizes, trust Okta to securely connect their people to the technology needed to do their most important work.
Okta is an enterprise-grade identity management service, built from the ground up in the cloud and designed to address the challenges of cloud, mobile and the interconnected world. Okta solutions integrate with existing directories and identity systems, as well as thousands of on-premises, cloud-based and mobile applications, to enable IT to securely manage access anywhere, anytime and from any device.
Okta's Identity Platform is a 100% cloud based multi-tenant solution that provides directory services, single sign-on, Adaptive Multi-Factor Authentication, provisioning, workflow, and built in reporting. It runs in the cloud on a secure, reliable, extensively audited platform.
Okta knows that any cloud-based service that is not available or secure is of no value to our customers. This is especially true in the Identity and Access world, since your IAM solutions sits between your users and ALL of your applications. Okta is architected as a highly available, highly secure cloud service. It is never taken offline for any reason, not for upgrades, and not for maintenance. This enables Okta to be highly agile and innovate – they push out new features weekly, and can make updates to the service at any time. It also allows them to provide a 99.9% uptime guarantee, with a track record for uptime that leads the industry. You can view Okta's history of availability at any time on their Trust site.
Okta is recognized as the industry leader in both the Gartner Magic Quadrant for Access Management and the Forrester Wave for Identity-as-a service.
How do I find out more?
To learn more about Okta and to see a full list of their solutions available through OETC, visit their education solutions page.
You can always chat with OETC's knowledgeable service and support team by contacting OETC or calling (800) 650-8250.