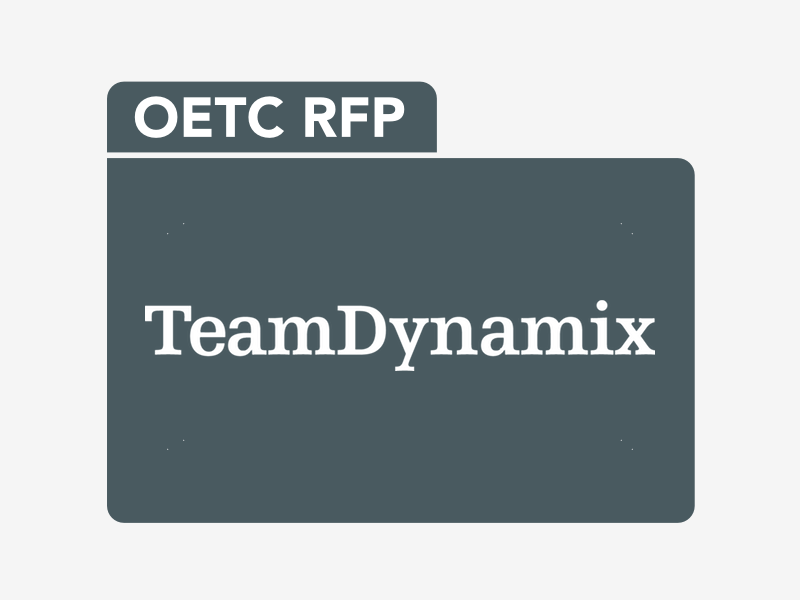 TeamDynamix IT Service Management and Project portfolio management bring efficiencies to K-12 schools and institutions of higher education
OETC has partnered with TeamDynamix to provide access to their IT service management (ITSM) products for OETC members. TeamDynamix offers a service management and project portfolio management (PPM) solution on a single platform. The solution helps K-12 districts and higher ed institutions better manage IT service delivery, including help desk services, change management, and project management. The solution is built specifically for education and offers an online portal with an integrated knowledge base.
TeamDynamix combines service management and service tickets into one so that IT projects are more efficient and easier to manage. This unique approach translates to better use of resources and improves visibility. TeamDynamix is used in IT as well as other campus departments and divisions, like Facilities, Human Resources, Media Services, and more. TeamDynamix services more than 200 organizations in education throughout North America. The product and professional services teams are well versed in the common challenges and operational frameworks that exist in this market. Customers belong to a strong user community of like-minded individuals.
Districts and institutions that use TeamDynamix are able to:
realize a decrease in call volume as students begin to self-service from the portal,
optimize resources by managing tickets and projects in one view,
implement ITIL best practices including change management,
manage big and small projects using Waterfall, Agile, Kanban, Cardwall, and task lists,
provide a single platform approach to IT, Facilities, Human Resources, Media Services and more.
How Can I Find Out More?
TeamDynamix empowers K-12 districts and Higher Ed institutions to work together smarter, faster, and better by aligning resources and processes. With a unified service and project management platform, TeamDynamix customers can focus on their mission to deliver tangible outcomes for their communities. You can find more at Teamdynamix.com, @TDXBuzz or on LinkedIn.
You can also find TeamDynamix on the OETC Store.
You can always chat with OETC's knowledgeable service and support team by contacting OETC or calling (800) 650-8250.