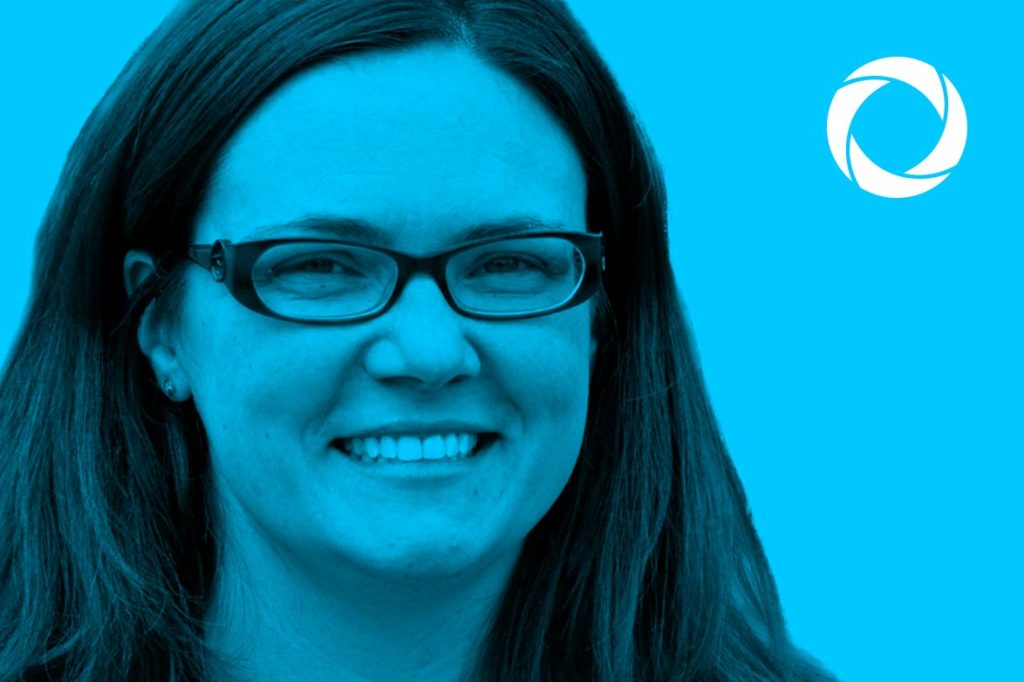 We can use the technologies around us to help everyone achieve their potential
Leigh Graves Wolf is a teacher-scholar, innovator, and a staunch believer in the power of community and collaboration. She has been a network administrator, a teacher, an instructional technologist, and a professor, and has worked across the spectrum from K12 to Higher Education. Her work centers around online education, emerging technologies, and relationships mediated by and with technology. She holds a PhD from Michigan State University, where she is a professor and the MAET (Master of Arts in Educational Technology) Program Director. Graves Wolf was central in pioneering her program's online teaching and learning model, and under her leadership her program won the 2013 AACTE Best Practices Award for the Innovative Use of Technology. This February, Leigh Graves Wolf will be sharing her energy and her vision with us at IntegratED Portland 2015.
Looking forward to that event, we conducted a brief personal interview with Leigh Graves Wolf. Read the full interview below!
Who are you, and what do you do?
I'm Leigh Graves Wolf 🙂 I'm a professor of Educational Technology & Educational Psychology at Michigan State University. In this role I also co-direct the Master of Arts in Educational Technology program.
What are your technology "must-haves"—the technology (hardware, software—whatever falls into your definition of the category) that you could not get through the day without?
I always have my phone with me—with a still camera, video camera, internet, and apps (like Evernote) I can be connected and responsive. During the fall and winter semesters the majority of my teaching is 100% online so I do my best to be as responsive as possible to student inquiries (no longer than 24 hours.) I like to think that I could get through a day without having my phone—as long as I have my out of office turned on, I know I could.
How did technology affect your own education? Is there anything you miss about technology at that time?
I've always grown up with technology in my house and at school. I remember taking a computer class in 1st grade where we learned how to program graphics in BASIC. My father was a photographer so we always had cameras in the house. I remember being one of the first students to do a video project in elementary school. I was also very involved in my high school and college radio stations. Video and audio editing used to be a very tactile process. Knowing how things "used to be" really helped me when using computer-based audio and video editors. I don't necessarily need to go back to the "good old days" but I think having that hands-on visual would be helpful for newbies working on audio/video.
What is your hope for the future of technology in education?
My hope is for education in general, technology will always be a part of education. My hope is that schools and educators and government agencies involved in education embrace all the technology around us (and not ban it). My hope is that curricula support multi-modal literacy. I would love an education system that embraces that not all students learn the same way, that they come from vastly different contexts and that we can use the technologies around us to help everyone achieve their potential.
If you could go out for coffee with anyone—historical or contemporary, real or fictional, celebrity or unknown—who would it be?
Jim Henson. It was my lifelong dream to work for him. His work (and the work of Joan Ganz Cooney and others at Children's Television Network) has profoundly shaped who I am and I would love a chance to thank him and others who are involved in the various capacities of Sesame Workshop.
To hear more of Leigh Graves Wolf's ideas on innovation, educational potential and muppets, register for IntegratED PDX 2015, an OETC teaching and learning event focused on technology integration strategies for educators.
For more on Leigh Graves Wolf, visit her website.
Reserve your spot and join the IntegratED community.
Learn More