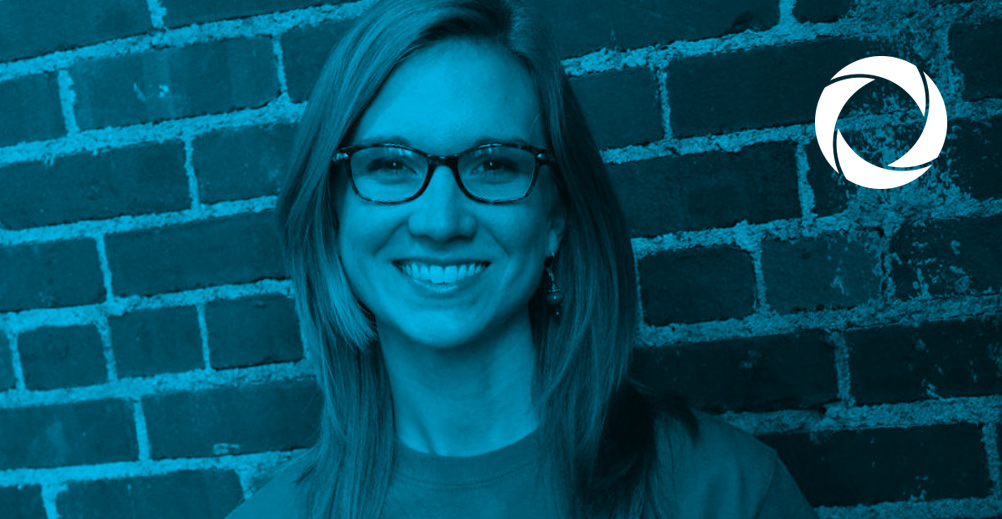 Technology is a powerful part of transforming teaching and learning.
The world is Katie's classroom. Seriously. Earlier this year she gave workshops on three continents in three weeks. Formerly a classroom and STEAM teacher, Katie is a licensed principal and K-12 technology integrator who is passionate about breaking STEM stereotypes. Even though she's based in Pittsburgh, PA as the Professional Development Manager for BirdBrain Technologies, you'll usually find her in a classroom in another time zone.
This November, Katie Henry will present at Spark 2017, OETC's one-day event featuring world-class talks on education, technology, and leadership.
In anticipation of this event, we conducted a brief personal interview with Katie Henry. Read the full interview below!
Who are you, and what do you do?
My name is Katie Henry and I am the Professional Development Manager for BirdBrain Technologies. I work closely with schools worldwide integrating robotics and computational thinking into their curricula. Because I work with so many schools, I have accumulated a lot of resources to share!
What is the best part of your job?
Traveling to new schools to meet teachers and students—everyone has a story to tell! My colleagues call me Katie-Appleseed when I travel for a month across countries and continents. I travel for long periods of time because my goal is to understand the nuances of each community. This is how I can ultimately help a school to integrate robotics in a way that works for them. Integrating CS and robotics ought to be a community effort to challenge structural and societal norms.
What are your technology "must-haves"—the technology (hardware, software—whatever falls into your definition of the category) that you could not get through the day without?
You might be surprised, but I recently went to T-mobile to ask about getting a flip phone. Unfortunately, I can't do this yet because I haven't discovered how to live without Google Maps or my Lyft/Uber Apps. I also like my current phone because I use its camera to teach webinars online, and I love to post pictures from my workshops on Twitter.
How did technology affect your own education? Is there anything you miss about technology at that time?
When I was in 5th grade (guess the year) I wrote my school newspaper's first "Tech Talk" column where I explained the definitions of LOL, J/K, and ROTFL, and how to create an AOL instant messenger account. In school we played Oregon Trail endlessly on the computers, but at home I was figuring out how to create free websites online (You could do it in the 90's!) and make stop-motion animations with my family's camcorder. In High School, I took an Industrial Tech class that I LOVED. Designing on the computer and injection molding were fascinating to me. But, the class was an elective and for some reason, I felt embarrassed that I liked it so much. I hid the fact that I liked it. As much as I have loved creating with technology throughout my entire life, I never once realized that I could pursue a career with it. I somehow thought that it was only what you did for fun, after the "real work" was done.
What is your hope for the future of technology in education?
I saw the original "Did You Know 3.0" video on Youtube in 2009, and I still hear it being quoted today. That's 8 years of re-stating, "'We are preparing students for jobs that don't exist, using technologies that haven't been invented to solve problems that we don't know are problems yet." I've already had 4 jobs that didn't exist prior to my being hired for them. My hope for the future of technology in education is that we can stop focusing on the future and start living it now. Living in the present moment ought to be the future of technology in education.
f you could go out for coffee with anyone—historical or contemporary, real or fictional, celebrity or unknown—who would it be?
C.S. Lewis. I read The Chronicles of Narnia more times than I can remember growing up, and the stories deeply impacted me. Earlier this year when I was in Oxford, I had lunch at The Eagle and Child, where C.S. Lewis, JRR Tolkien, and other members of their writer's group The Inklings met to work on their books. If I write an email to you, I may sign it 'Onward and Upward' which comes from the last book in the Narnia series: "Onward and Upward! To Narnia and the North!"
To hear more of Katie Henry's thoughts on visual learning and thinking, register for Spark 2017, OETC's one-day event featuring world-class talks on education, technology, and leadership.
Spark 2017
Start something brilliant. Reserve your spot today.
Register Now – $129
Learn More