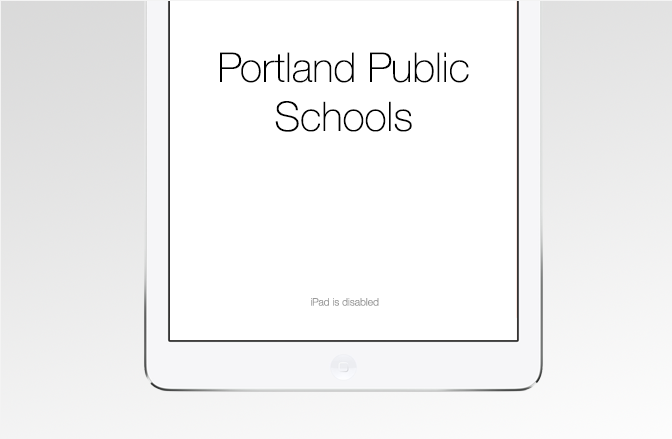 Imagine attending a school at which every student was issued an iPad. You and your fellow students have the ability to use technology in engaging and meaningful ways, to access instructional tools, and to communicate and collaborate with teachers and peers. Then imagine your iPad was stolen.
When Portland Public Schools (PPS) began its 1:1 iPad initiative at three of its high schools in 2011, this scenario was a big risk factor. This was before Mobile Device Management and Apple's Device Enrollment Program existed, and the risk of iPad theft was only one of the drawbacks to the program.
"Managing hundreds of iPads was labor intensive," says Jonathan Vail, User Experience Management Lead at PPS. "Each iPad required a physical connection to Apple Configurator to install and manage applications, supervision, and any desired restrictions; any changes to student iPads required the devices to be brought back to a Configurator station."
With the introduction of Mobile Device Management (MDM), each user could register their device using an Active Directory account, allowing for over-the-air inventory and management of school iPads. Apple Configurator was, however, still necessary for supervision and for managing applications. Additionally, any user could remove the MDM profile from a device, which would instantly remove visibility and management and decrease the likelihood of tracking down a stolen device.
In 2013, Apple introduced additional technologies with iOS 7 that significantly reduced PPS's labor costs, increased device security, and allowed schools to manage all settings over the air. "Apple's Device Enrollment Program (DEP) allowed us to supervise all of our iPads, and the Volume Purchase Program (VPP) enabled management of applications in real time—no Configurator needed," Vail explains. "Users at PPS now simply boot up the iPad, connect it to WiFi and complete a few setup screens, and that gets them registered so we can do the rest."
PPS was one of twelve districts nationwide that participated in the DEP pilot, working closely with Apple and with its MDM vendor, Absolute Software. This participation provided feedback and, ultimately, helped shape the program. Now, for PPS and for many other institutions, DEP provides the level of security necessary for a mobile device program.
Vail shares an example: "Some time before DEP existed, an iPad was stolen from PPS. When we tagged all of our devices with DEP, that iPad asked its new user to authenticate with a PPS network account. The user, who did not know the iPad was stolen, gave us a call and we got the iPad returned."
PPS's 1:1 iPad initiative is still in action, and Apple's developments in MDM capabilities have streamlined the initiative's integration into teaching and learning. PPS high school students now enjoy privacy, safety and convenience when using their devices, and PPS and other educational institutions can confidently focus on continuing to improve education.